Acoustic Choice
Are you looking for something that 'little bit extra' to add to your party or event?  – Acoustic Choice may be just the ticket.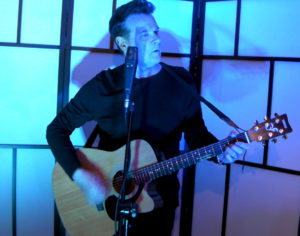 You can have Acoustic Choice on it's own or as part of the The Choice main Band.
With line-up options ranging from:
Acoustic Guitar & Vocals – Solo
Acoustic Guitar & Piano (with Vocals)  – Duo
Acoustic Guitar & Sax (with Vocals) – Duo
Acoustic Guitar, Piano & Sax (with Vocals) – Trio
We will create a great atmosphere performing Acoustic versions of modern day anthems from artists such as  Ed Sheeran, The Killers, Coldplay, Greenday along with classics from The Beatles to Elton John and those timeless songs from the Great American Songbook so every taste is catered for.
What you can expect:
Performing 'cocktail/dinner' music properly is a great art – not too loud – not too in your face – not too distracting from the conversation. However if it goes too far the other way you might as well save your money and put on a CD!
Acoustic Choice has taken the art to a new level, we will engage your audience with our experience, enthusiasm and musicality making a fantastic centerpiece to any occasion.
State of the art lighting – we're not talking 'rock' lighting but lighting that makes a statement as guests walk into a room they know there's something special happening. People listen with their eyes, they may not always be musical experts but if it looks great it usually is great!
We always make sure the band is costumed properly from head to toe. We have the added advantage that our pianist is a girl so a touch of glamour always goes a long way!
We can also offer:
Cocktail Piano – Solo   Click here for details
Sax (with Backtracks) – Solo
Bass, Piano, Drums & Sax (with Vocals) – Quartet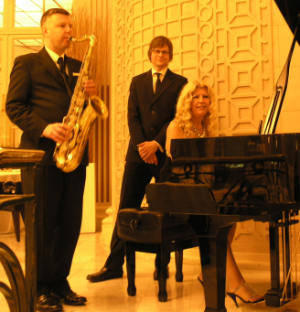 Unlike a lot of jazz performers that play instrumental after instrumental we have the advantage of having great vocalists in all our line – ups – except our Solo Sax option. Being able to mix it up between great vocal classics to instrumentals truly adds to the versatility of our sound.
We always perform under the principle that Acoustic Choice may not be booked to headline an event but playing great listening music during a reception still requires a headline performance.
How do we go about achieving this great trick? – Great music!