The 80 's Tribute!
If you are looking for something that little bit extra what about The 80´s Tribute Show!
 "I hope you enjoyed it as much as we did. You guys were FANTASTIC! Thank you" – Total Media, Kensington Roof Gardens, 2012
Our 80′s Tribute can be a part of the main band's performance or as a separate featured show. We guarantee to bring back those great memories of one of the best decades in music.
From Wham to Madonna to Depeche mode to the Human League.  80′s music has never been as popular as it is right now, so why not seize the opportunity to turn your night into a revival of those fantastic times.
Wake me up before you go go  
I'm your man 
Don't you want me baby 
Just can't get enough  
Call me 
Hanging on the telephone 
Don't leave me this way 
Living on a prayer
Sweet child of mine 
Love Shack 
Crazy little thing called love 
Don't stop me know 
Like a Virgin 
Holiday 
Billie Jean 
Tainted Love 
Come on Eileen 
Flash dance 
I'm so excited 
Raining men  
Walking on sunshine
Girls just wanna have fun
Simply the best 
Baggy Trousers 
Town called Malice
Never gonna give you up 
Take on me 
The look of love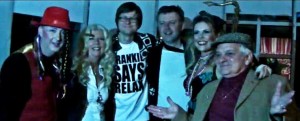 Why not add some of the best look-a-likes in the business and make it a night you will never forget….You know it makes sense!